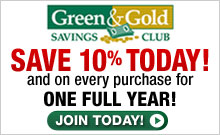 Housewares and Homegoods from Collections Etc will help get your home in order and make life easier. We have great organizational items like closet storage, kitchen storage, laundry storage and more. Home solutions such as braided rugs and lighting also can give your living space the extra touch that it needs. Running out of space in your refrigerator or freezer? Try one of our Freezer Storage baskets. Kitchen lacking that decorator's touch? How about our easy and convenient stick-on backsplash tiles or a decorative dishwasher cover? Whatever it is, we have an affordable and unique solution for just about every room in your home.
Related Products
Gotham Steel Pans make cooking easier by combining ...
Gotham Steel Pans make cooking easier by combining a non-stick ceramic surface with super-strong scratch-resistant titanium. Now your food will slide right off, without using butter or oil, so your recipes can be prepared with less fat and calories. The ...