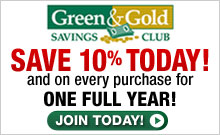 Get bright ideas and a landscape designers's touch with our edgers, path markers, solar path lights and more. Create garden walkways with ease and affordability - you will not need to hire a team to get these looks. Paths through your garden can be used to lead to a garden bed, a fountain, a storage shed, or another special place you frequently use.
Once the ground-level edgers and trim is down, light the pathway with beautiful solar lighting in an array of designs that are both functional and decorative.
Related Products
Trim a sidewalk, flower bed or ring a ...
Trim a sidewalk, flower bed or ring a tree trunk with a border that looks just like real stones. Set includes 5 natural-looking faux stones that install in minutes by staking easily in the ground. They can be used anywhere ...