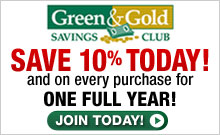 The bright outdoors! Outdoor lighting is perfect for illuminating the outside of your home or yard. Brighten up your exteriors with outdoor lighting fixtures from landscape lighting and solar lights to outdoor porch lights and patio lights.
Our outdoor lighting department is unlike any other. Our collection of outdoor lights includes everything from solar flag lights, to pool and porch lights, to fun, colorful and whimsical lights. We truly take exterior lighting to a new level with our line of whimsical outdoor lights. Whatever your theme is, we've got an outdoor light for you. Ladybugs, dragonflies, butterflies, turtles, hummingbirds, western, floral, the list goes on and on. And the best thing about our outdoor lights is that they look great during the day and at night.

Looking for a clever idea for outdoor lighting for your garden? Browse through our selection of floral outdoor lights and pick up a few of your favorites. Then place them throughout your real flowers. That way, you can have a garden of beautiful flowers during the day AND at night! The possibilities are endless with our selection of unique outdoor lights.
Unique Solar Garden Lights
Harness the power of the sun into beautiful and decorative lighting with outdoor and indoor solar lights. Solar lights make it simple and easy to light up a space while saving you money on electricity through the use of re-usable energy from the sun and a rechargeable battery. Some solar lights are also made to be weather resistant.
Related Products
Light up your landscaping with a pretty floral ...
Light up your landscaping with a pretty floral glow each evening. Set of 3 flower stakes each has 20 LED lights powered by a remote solar collector. Plastic blossoms on metal stems stake into the ground. Choose between Blue, Yellow ...